Funeral Styling
We understand that one of the major components of a beautiful and memorable funeral is the visual aspect. Each funeral service is as distinctive and as unique as the loved one we are honouring. For this reason we have a wide and extensive selection of caskets, coffins, urns, floral arrangements and styling items for you to select from. We also offer other creative services to design a bespoke funeral.
CASKETS, COFFINS & URNS
We offer a wide range of coffins, caskets and urns to suit varying budgets and personal preferences. There are many families that opt for a more traditional style of funeral, selecting from wood and timber materials.
Please contact us for full range of coffin, caskets, urns & safe keeping pieces.
For other a distinctive style of coffin please browse further…
Coffins
We offer a wide selection of coffins, below are some of the more traditional and most commonly chosen styles. However, there are various unique styles and colours available and we can assist you in finding the perfect coffin for your arrangement.
A UNIQUE & PERSONAL TOUCH... DECORATE IT YOURSELF.
If you are after a personal, memorable and individual touch for your loved ones farewell, you may like to decorate their coffin with beautiful heart felt drawings or words, or photo collages. We have coffins available with a smooth white finish that are suitable for artwork using crayons, oil pastels, charcoal, felt pen, oil paints and acrylic paints.
Custom Coffins
Another distinctive and creative way to honour the life and memory of your loved one is with a custom designed coffin. This particular style can be designed with an image of your choice or your own photos that you supply. The manufacturer of these coffins has ensured to make them from recycled materials that produces significantly less carbon dioxide, making sure to keep this option also environmentally friendly.
Floral Arrangements
White and red roses have long been the traditional funeral flower. The red rose symbolising love, respect and courage in the face of grief. The white rose symbolising innocence, humility and purity. It is only fitting that these beautiful flowers are used to farewell our dear loved ones.
However, there is an endless selection of floral combinations that can used as a funeral floral arrangement. Each of these flowers has their own beautiful meaning that evokes emotions and creates a stunning tribute. Your selection of floral arrangement can be as distinctive as your loved one, as it's a meaningful and important visual reflection of love.
Below are some floral arrangement inspirations…….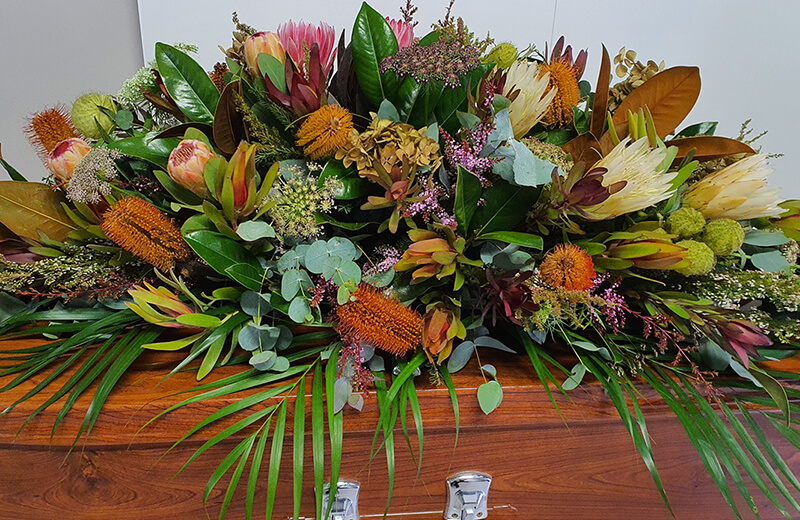 Australian Natives
A classic seasonal mix of fresh native Australian flowers and lush foliage. This arrangement can be designed in a variety of colours.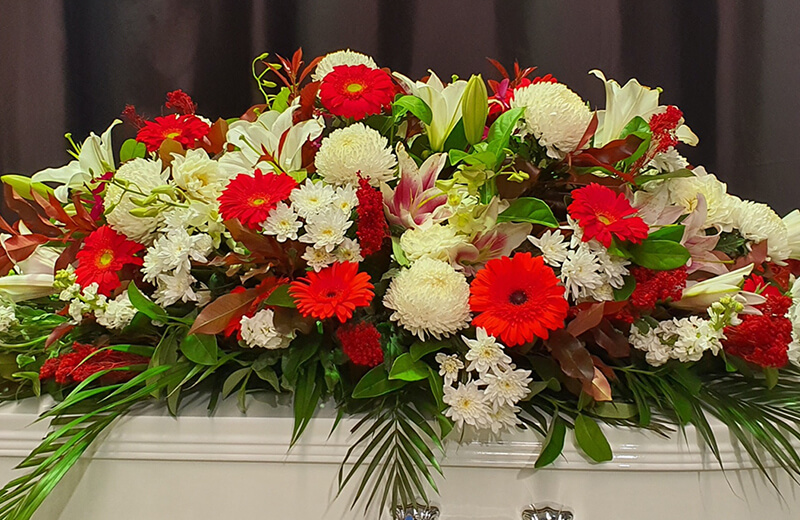 Traditional Red & White
A traditional arrangement of rich red and a variety of white flowers, with accents of opulent trumpet Tiger Lilys on a deep green bed of fresh foliage.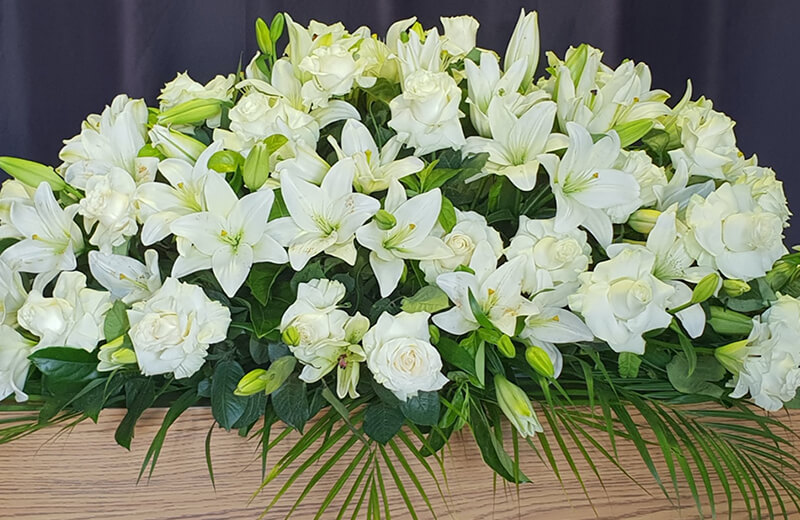 Classic White
A elegant and substantial pure white arrangement of stunning Roses and fragrant Tiger Lilys.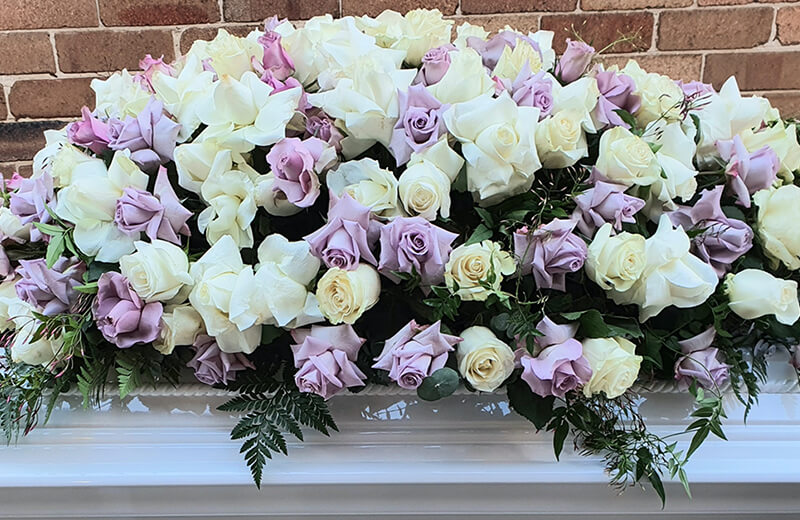 Simply Roses
A simple yet beautifully nostalgic roses arrangement on a bed of leather leaf ferns. This can be designed with a variety of Rose colour combinations.
The Bespoke Funeral
There are many different ways to make a farewell memorable and distinctive. Often funerals are more about giving those that remain a personal and touching experience, so that the memory of their loved one will essentially be beautifully engraved in their memory forever. Much like a wedding, it is a special and significant day that requires every detail to be perfect. Like other important life events, a funeral can be planned and designed to best convey our hearts towards the one we are farewelling and who's life we are celebrating.
Below are some additional styling aspects that can assist in creating a stunning bespoke funeral…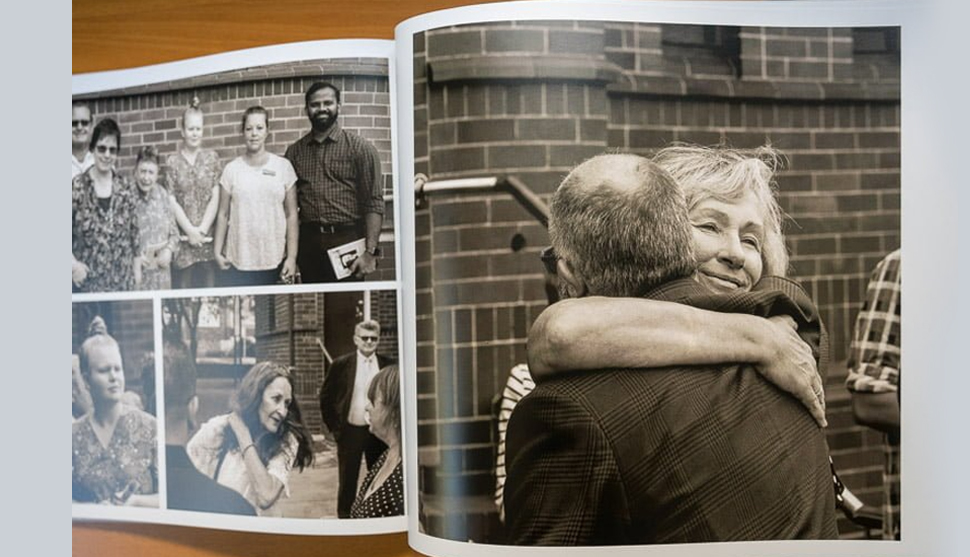 Keepsake Books
An exquisite and captivating compilation of photographic memories of your loved ones farewell. These keepsake books must be seen to be appreciated for all that they are and all they do in the hands of a grieving family. These keepsake books are put together by an acclaimed Photographer, who involves the family in the process of designing and selecting images and other memorable items, such as letters, eulogies, tributes, poems to wonderfully craft an unforgettable book. The process of helping put this together, in itself, is a powerful healing therapy. These keepsake books are a treasure that one could hand to the generations to come to honour the life of their loved one.
We have keepsake books available for viewing during funeral arrangements.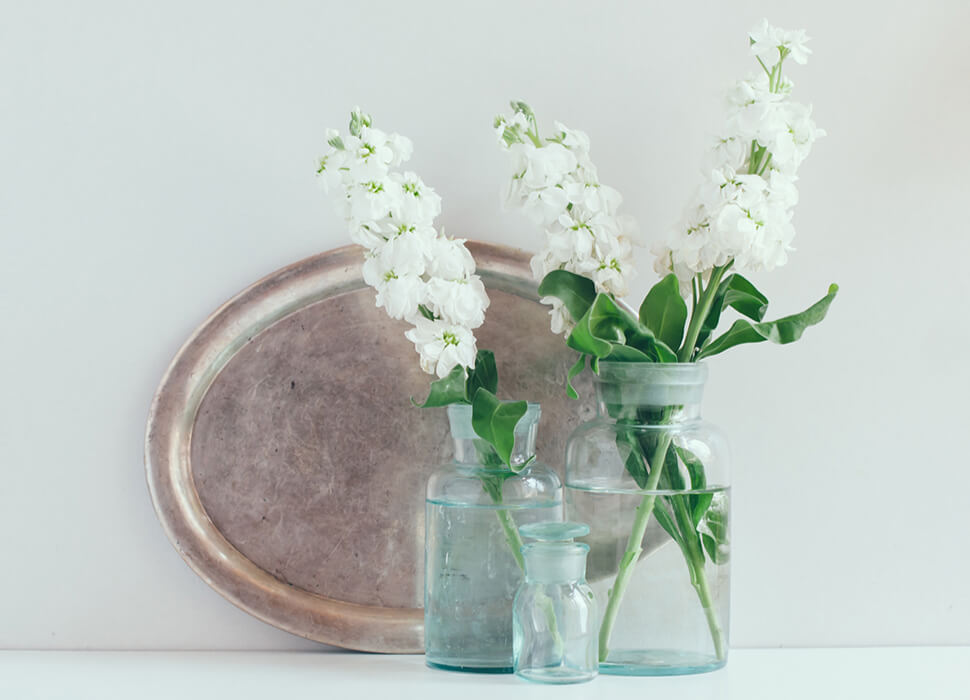 Wake Styling
A carefully curated selection of decorator items, in different styles and themes, to create an elegant and intimate setting for your family and friends to gather together. Having a stying package can make the wake preparations easier and more streamlined on a day that already has much stress. This service is designed to accommodate the need families have when planning to host a wake after an emotional funeral day. You can speak to one of our consultants on arrangement of the funeral to select styles and items that would suit your wake.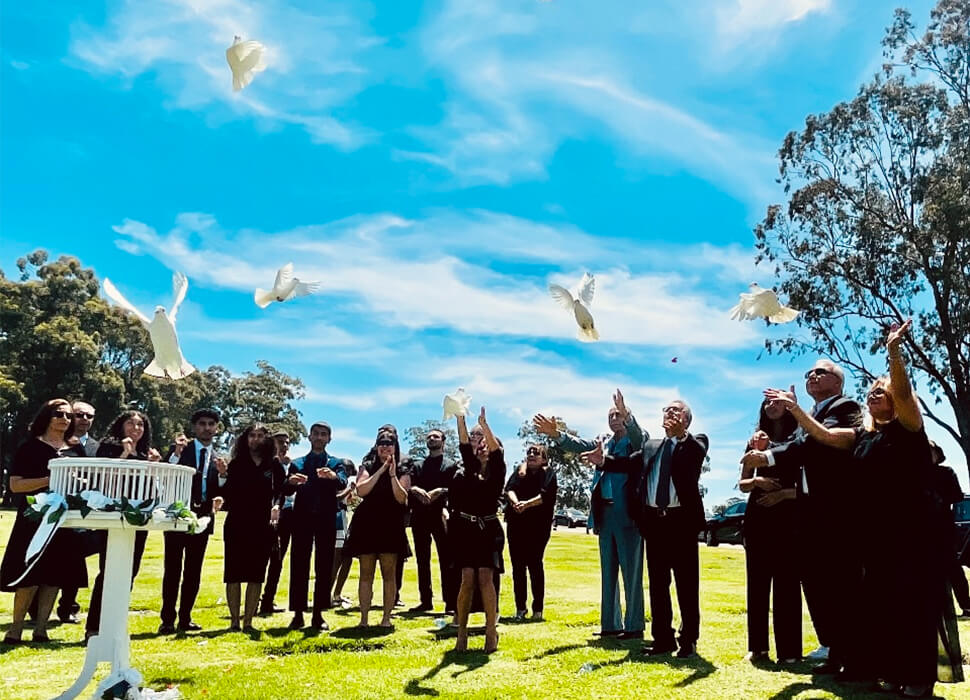 White Dove Release
A soothing and symbolic releasing of doves at a graveside service can bring peace and a special healing touch for those that are grieving. In our time as funeral directors, we've seen many families be uplifted by this dove release, and it is always wonderful to hear that they were so touched and blessed by the experience.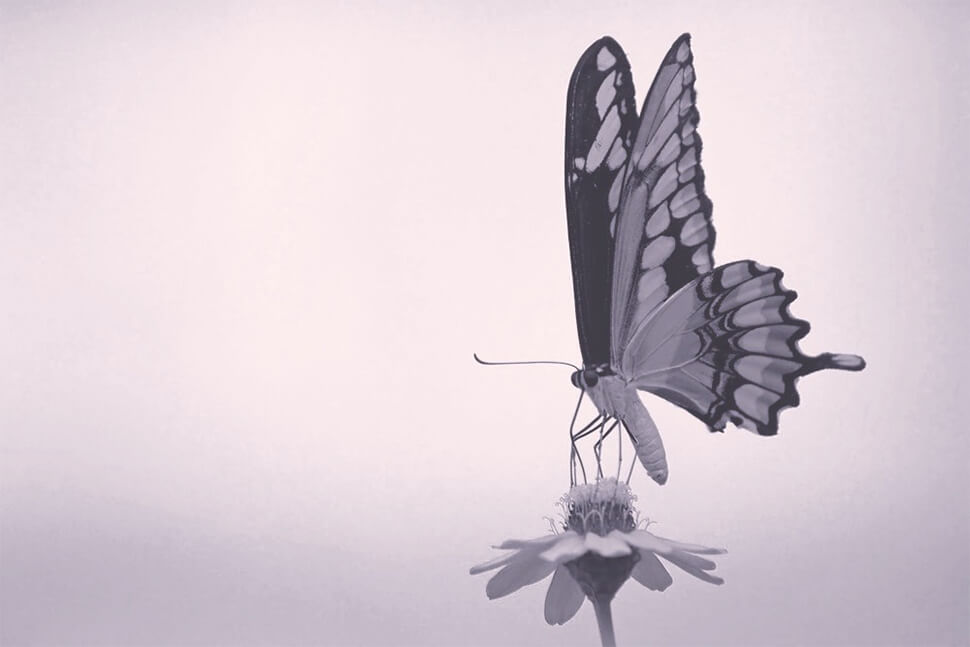 Butterfly Release
Symbolic of freedom, love and new beginnings, butterflies have long been a favourite among people all over the world. The butterfly release experience produces an uplifting feeling, an understanding of the setting free of a spirit. It is a beautiful representation of allowing our loved ones to be free.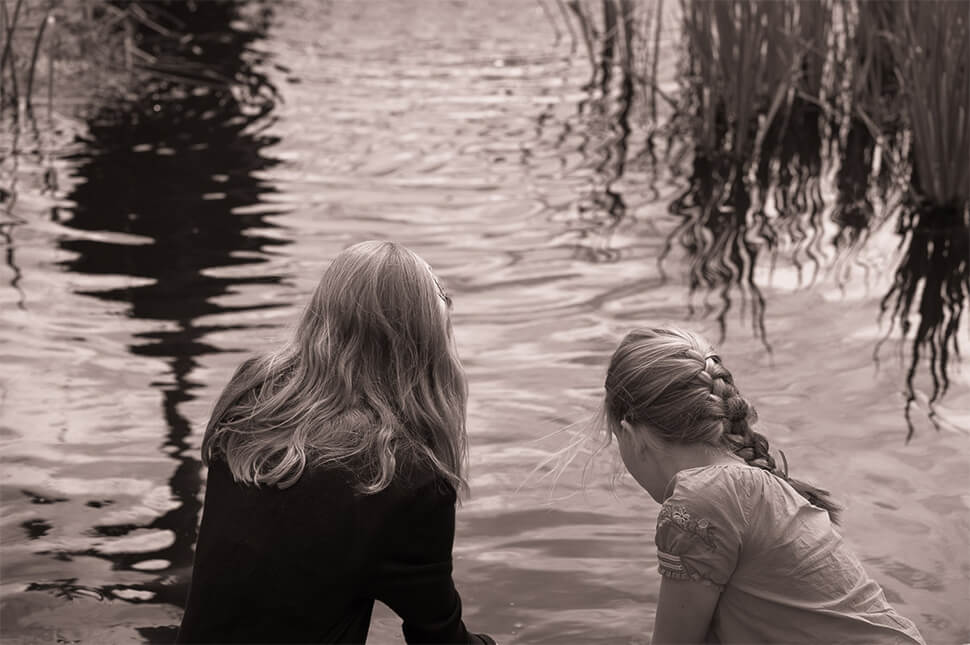 Funeral & wake photography
Capturing some of the most tender and loving moments when families and friends come together to embrace and comfort one another is something so special. When people are being kind to one another and sharing in these intimate moments, it is when they look most beautiful, and these are the memories we most want to keep of the day we farewell our dear loved one.